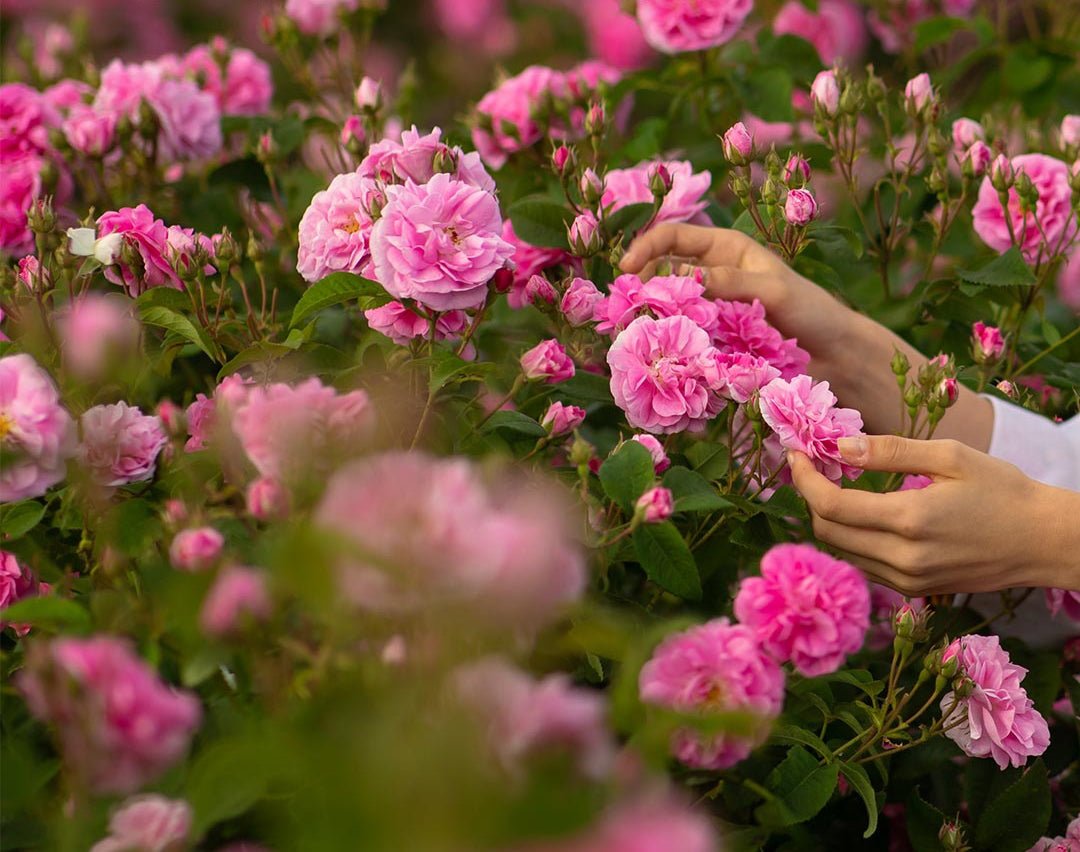 NIB Spotlight Rose Hydrosol
October 2021
Nature's Ingredient Benefit (NIB) Spotlight this month is focused on Rose Hydrosol.
Rose Hydrosol
Rosa x Damascena is more commonly known as Damask rose.  The Damask rose is a deciduous shrub that can grow typically up to 7 feet tall, the stems are densely armed with stout prickles (thorns).  The roses are light to moderate pink, to light red.
Rosa x Damascena is a cultivated flower that is not found growing in the wild.  It's a hybrid whose origin is believed to be in Syria (hence named from the Syrian city Damascus).  The flower is optimally cultivated in hedge rows to help protect the blooms from wind damage and to facilitate harvesting them. Gathering the flowers is intense manual labor. There are about 20–40 days per year when harvesting occurs.  The roses are gathered by hand and brought to a central location for steam distillation.   Rose hydrosol is the aromatic water that remains after steam-distilling of roses.  It is the co-product of the distillation of rose essential oil and is made with those same-day, fresh-picked fresh rose petals (key part of the process!). It contains the essence of the plant in every drop.
BENEFITS
All skin types can benefit with its ability to soothe and hydrate, reduce redness, improve circulation and the appearance of fine lines;
Used to treat acne and skin irritation;
Nourishing and hydrating facial and hair masks; 
Balances skin pH level and has anti-aging and rejuvenating effects; (One of the best and most traditional facial cleansers);
Soothes and moisturizes the skin when added to your bath water;
Some of our favorite uses for this luxurious spray are in face masks, as a make-up setting spray, as an indulgent body spray, or added to a soothing bath. Rose hydrosol is great for all skin types and is especially favored as a toner by those with sensitive or mature skin.
Consumable?  Yes – it is sometimes added to lemonade, and you can find it in some South Asian and Middle Eastern cuisines.
OUR PRODUCTS CONTAINING ROSE HYDROSOL OIL
Rose Hydrosol Spray
Want to learn more? Subscribe to our newsletter to receive Alise NIB blasts, promotions and more! 

Click here

 to subscribe.
Written by Lisa Scheerer, CEO and Creative Alchemist of Not The Same dba Alise Body Care October 2021