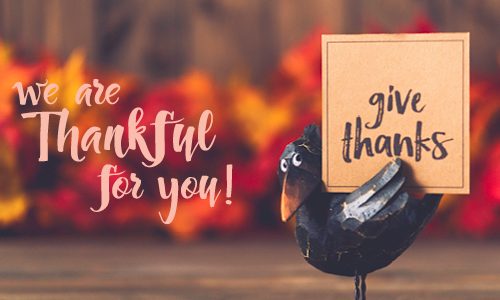 A Time for Gratitude

Expressing Gratitude for Our Bodies Every Single Day
I don't think I'm alone when I say Thanksgiving is my favorite holiday.  I just can't help but love a celebration that's rooted in gratitude…and pumpkin pie.  And I know that when folks sit down at the table this year together and express their thanks that the more common things to come up will be family, friends, work, and (the ever-popular choice) turkey. Very cool, but I feel like it's time to add a few more things onto the list.  How about "my working left knee joint"? Or "the powerful neck muscles holding my head up"? Or even "the ability my skin has to heal after getting burned on the oven rack"? Sure, you might get an odd look from your Aunt Edna, but who cares?
This is what's on my mind: that we should be expressing gratitude for our bodies every single day.  Young, old, short, tall…whatever we are deserves thanks.  We're so quick to judge, criticize, and beat ourselves up for not looking like Jennifer Aniston, but if you consider all of the systems working in harmony within our body to grow, to heal, to endure…well, it's nothing short of amazing.  Forget the frizzy hair, the extra ten pounds on the scale, and the wart on our big toe. Right at this very moment, our heart is valiantly beating, our lungs are promptly filling and emptying, our blood is enthusiastically pumping, and a gazillion more infinitesimal things are happening in order for us to be here…alive! And whether we break a bone or we break the skin, the body has an awe-inspiring capacity to be able to heal. Typically, we just need to offer it a little help.
These are all things to be mighty grateful for and why I think so many of the products in the Alise line make so much darn sense.  Take the Oatmeal and Honey Soap, now called Fabulous Facial Soap for example.
Your skin knows how to produce its own perfect amount of oils—it just needs a little encouragement to do so when it's overly dry. The Oatmeal and Honey Soap is designed to gently exfoliate and also help naturally balance the pH of our skin.  In other words, that little soap knows the powerful healing potential of our skin and just wants to help it out a bit.
Another great example is the Muscle and Joint Relief Salve.
If I've been standing and working in my kitchen for several hours straight, I'll get this wicked pinch between my shoulder blades.  What do my muscles—in all their miraculous self-healing abilities—need? A deep, warming rub, a bit of stretching, and some rest.  I feel pretty great about the idea of massaging in the Muscle and Joint Relief Salve that's infused with anti-inflammatory herbs, relaxing into the aromatherapy of the Warm Clove scent, and giving my muscles a chance to do what they really want to do: recover.
I've just realized our bodies are so smart, so intuitive, and so resilient on sooo many levels…and I'm grateful. And once that roast turkey hits the center of the table this year, I intend to give thanks for all that my body is and does amazingly well. Efficiently digesting three pieces of pie, for example.
Now pass the cranberry sauce, would you?
Alexi Alfieri has written silly poems, ridiculous short stories, comical speeches, and many, many fun playscripts for children's theater.  You can find more of her work on her website, Fun Middle School Plays, at www.funmiddleschoolplays.com.