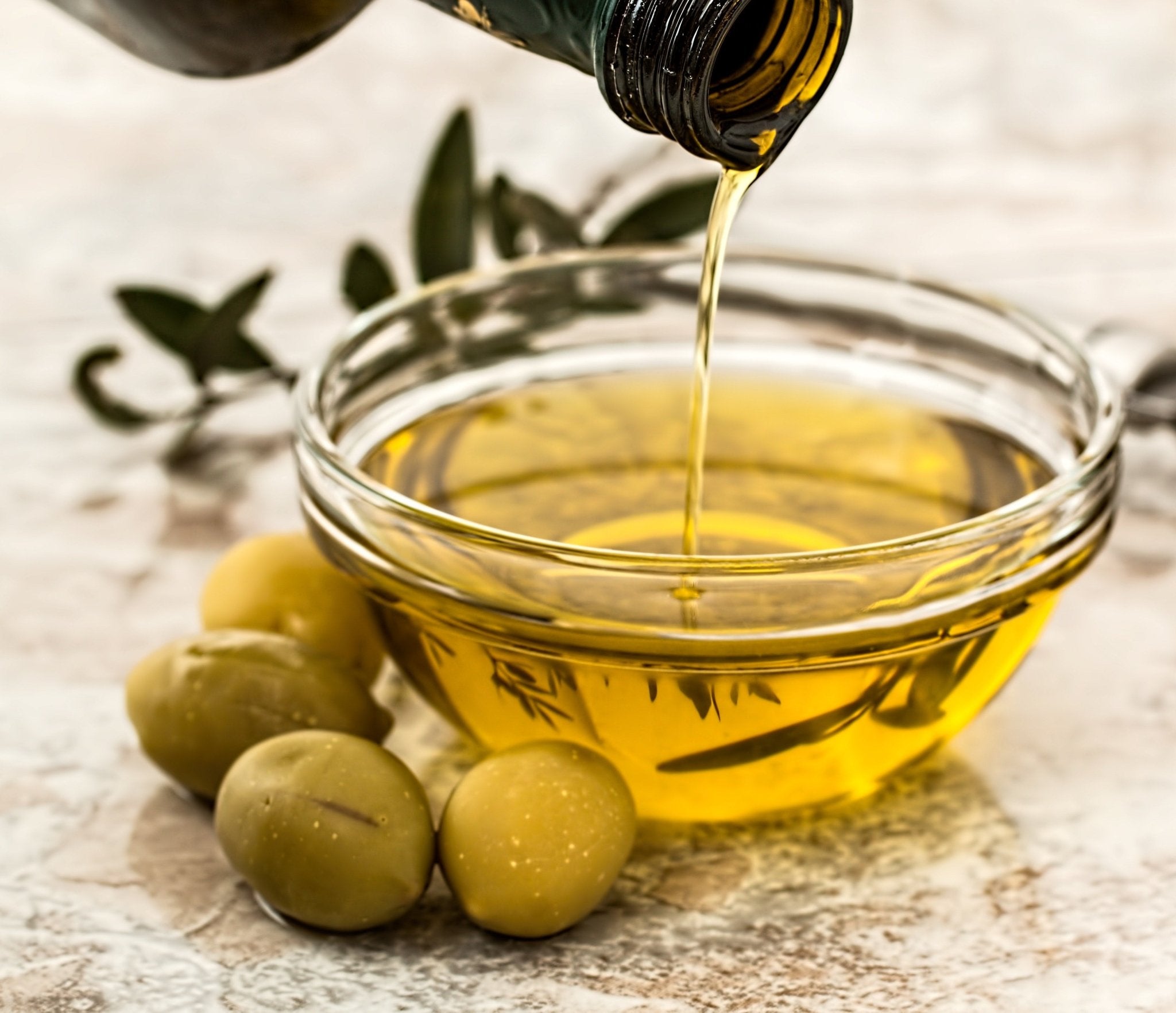 NIB Spotlight Extra Virgin Olive Oil – We Love It!
May 2021
Nature's Ingredient Benefit (NIB) Spotlight this month is focused on Extra Virgin Olive Oil.
Extra Virgin Olive Oil 
DESCRIPTION
The olive tree is an evergreen tree or shrub native to Mediterranean Europe, Asia, and Africa. It is short and squat, and rarely exceeds 8–15 m (26–49 ft) in height. The silvery green leaves are oblong, measuring 4–10 cm (1.6–3.9 in) long and 1–3 cm (0.39–1.18 in) wide. The trunk is typically gnarled and twisted.  The olive tree is also cultivated in South America, Australia, New Zealand, Mexico, and the United States.
For centuries, extra virgin olive oil has been used topically to relieve everyday skin ailments. It has anti-inflammatory, antibacterial, and anti-aging properties because it is packed with antioxidants and vitamins. It hydrates the skin by building the skin's moisture barrier to prevent loss of moisture.
Extra Virgin Olive Oil (EVOO) – The only olive oil we use in our facial and body care products.
Extra virgin olive oil should always be used in personal care products instead of a refined oil – like regular olive oil. The high heat and solvents used to refine olive oil alters or removes the nutrients and antioxidants that naturally are present in extra virgin olive oil (EVOO). The resulting refined oil will moisturize the skin, but the benefits (anti-aging, anti-inflammatory, antibacterial) of the multitude of antioxidants will be lost.
The high proportion of vitamins K and E, as well as vitamin D and A, along with a multitude of antioxidants protect the skin against free radicals, making extra virgin olive oil effective in aiding common skin disorders such as:
acne
psoriasis (chronic eczema)
eczema
diaper rash
skin dermatitis and more
In addition, the antioxidant content of olive oil may reduce aging skin and wrinkles.
PROPERTIES
High in essential fatty acids (Omega 3 and 6), loaded with antioxidants, moisturizing/nutritious for your skin (loaded with Vitamins K, E, D and A), antibacterial, anti-inflammatory
Did you know?  Research has shown that applying olive oil (EVOO) on the skin may block about 20 percent of the sun's harmful ultraviolet (UV) rays.  It does this by boosting the skin's natural sun-blocking proteins.
Consumable?  YES!  And delicious.
OUR PRODUCTS CONTAINING OLIVE OIL
Beautiful Skin Facial Salve, Eczema Soothing Skin Reliever, Skin Refresher Herbal Salve, Skin Saver Salve, Muscle and Joint Relief Salve, Stress Relief Roll On, Wild Yam Roll On, Beard Balm, Sun Shield, Lip Saver, and ALL of our soaps have olive oil as the main ingredient.
Want to learn more? Subscribe to our newsletter to receive Alise NIB blasts, promotions and more! 

Click here

 to subscribe.
Written by Lisa Scheerer, CEO and Creative Alchemist of Not The Same dba Alise Body Care May 2021