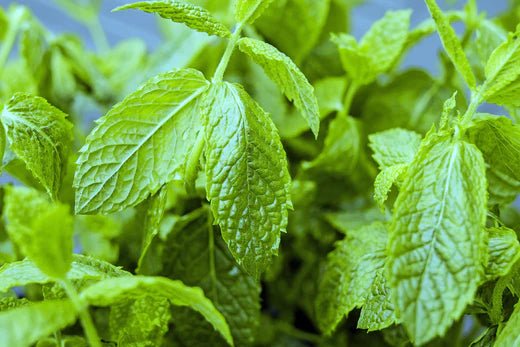 NIB Spotlight Peppermint Essential Oil
October 2020
Nature's Ingredient Benefit (NIB) Spotlight this month is focused on Peppermint Essential Oil.
Peppermint Essential Oil
DESCRIPTION
Peppermint is a perennial which is most commonly grown as a culinary or medicinal herb and/or ground cover. It typically grows 1 to 2 ft. tall and wide but will spread further by rhizomes forming an attractive ground cover.   Indigenous to Europe and the Middle East, the plant is now widely spread and cultivated in many regions of the world.  Peppermint essential oil possesses a fresh sharp menthol odor and a pungent taste followed by a cooling sensation.  It has a variety of therapeutic properties and is used in aromatherapy, bath preparations, mouthwashes, toothpastes, and topical preparations.  It commonly found in food, drinks, and used as a flavoring agent.
PROPERTIES
Analgesic, antiseptic, anti-spasmodic, anti-inflammatory, circulatory stimulant
BENEFITS
When used in aromatherapy, Peppermint essential oil helps to clear the nasal passageway to promote the relief of congestion and to encourage easy breathing. It is believed to stimulate circulation, reduce feelings of nervous tension, soothe feelings of irritability, boost energy, balance hormones, enhance mental focus and help to relieve headaches. When diluted and inhaled or when rubbed in small amounts behind the ear, this digestive oil can reduce the feeling of nausea.
Two of the main active constituents in Peppermint Oil is Menthol and Menthone.  Menthol is known to be analgesic and is thus beneficial for reducing pain such as headaches, muscle aches, and inflammation.  Menthone is also known to be analgesic and has been proven to show antiseptic properties.  In addition, its invigorating properties give peppermint essential oil its energizing and stimulating effects.
Consumable?  Yes, a delicious, aromatic herb to spice food, drink as a tea and a delicious addition to many cocktails!
OUR PRODUCTS CONTAINING PEPPERMINT ESSENTIAL OIL
Peppermint Aromatherapy Spray, Head Ache Relief Roll On, Muscle and Joint Relief Salve – Peppermint, Muscle and Joint Relief Salve – Wintergreen, Body Fresh Deodorant Spray
Want to learn more? Subscribe to our newsletter to receive Alise NIB blasts, promotions and more!

Click here

to subscribe.
Written by Lisa Scheerer, CEO and Creative Alchemist of Not The Same dba Alise Body Care
October 2020