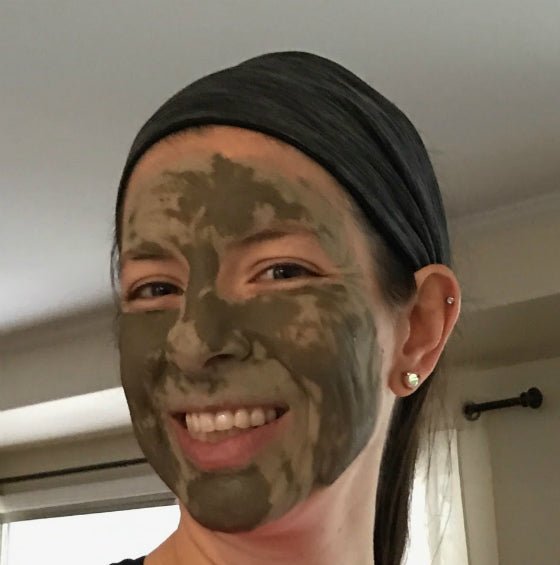 Mud Mask or Seaweed Mask Step-by-Step Guide
Follow our Facial Mask guide to have clear, smooth healthy skin.
What you'll need:
Mask:  Calistoga Mud Mask or Calistoga Seaweed Mask
Moisturizer:  Beautiful Skin Facial Salve (Lavender or Ylang Ylang)
Cleanser:  Colorado Wildflower Soap, Honey Lavender Soap, or other cleanser
Hydrator:  Lavender Aromatherapy Spray or Rose Hydrosol Spray
Small bowl or you can use the mask lid as one
For additional exfoliation:  washcloth or our facial sea sponge
Towel
How To:
Step 1 –  In a small bowl, the mask jar cap or the palm of your hand,  mix a heaping 1/2 tsp of our Calistoga Mask with approx. 1/2 tsp  of water. Blend until consistency is creamy.  If too thick, add additional drops of water.  If too runny, add a little more Calistoga Mask.

Step 2 –  Remove makeup. Wash your face with an Alise soap  or a mild soap/cleanser. Optional: Use a Sea Sponge or wash cloth.

Step 3 –  Lightly wet your face with warm water or apply a warm compress to your face for 30 seconds or so. Leave some moisture on your face.

Step 4 – Using your finger tips, gently massage the wet mask on your face in small circular motions (avoid contact with eyes). See photo on the front for an example.

Step 5 – Allow mask to completely dry (about 10-15 minutes). When mask is dry, it will be lighter in color and tight on your skin.

Step 6 – Rinse your face with warm water. If desired, also use a clean, wet  cloth to gently remove mask. Pat your face dry with a clean towel.

Step 7 – Hydrate your face. Close your eyes and spritz your face with our Rose Hydrosol or aromatherapy spray of Lavender or Stress Relief. Don't forget to breathe in and enjoy the essential oils.

Step 8 – Using your fingertips, apply our Beautiful Skin Facial Salve by melting a small amount on your finger tips and then massaging into skin.

Step 9 – Feel how soft and smooth your skin is and observe how tone it looks. You may have a flush color, that's your increased circulation!  
Benefits
Naturally Tones & Tightens
Reduces Wrinkles
Removes Blemishes & Impurities
Exfoliates, Cleanses, Detoxifies
Increases Circulation
Maintains Healthy, ph-Balanced Skin
Want to learn more? Subscribe to our newsletter to receive Alise NIB blasts, promotions and more!