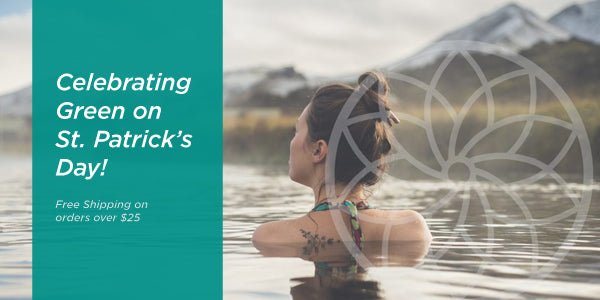 Celebrating Green this St Patrick's Day!
Shared thoughts by Lisa Scheerer, March 2018
Green is one of my favorite colors! I just love seeing so many people wearing Green on St Patricks Day. It inspired me to do a little research on the color Green, and here's some interesting facts I discovered…
Green is the most common color in the natural world (plants, trees, etc), Blue is 2nd (as in our oceans, the sky, etc).
Green stands for balance, nature, spring, and rebirth.
Green helps to increase focus.
Green is an emotionally positive color, giving us the ability to love and nurture ourselves and others unconditionally.
Green is calming and stress-relieving and ironically, invigorating!
Here at Alise Body Care, we use the color Green on product labels when they contain Eucalyptus essential oil.  When you spray our Eucalyptus Aromatherapy Spray in the air, on your body or in a hot shower steam, it gives a calming and grounding sensation while at the same time can lift one's "chi" (and filling you with positive energy!). Another popular Alise Body Care product that has Green on the label is our Calistoga Mud and Mineral Eucalyptus Breeze Baths. When you soak for 30 minutes in our Eucalyptus Breeze Calistoga Bath, you will emerge a new person!  Relaxed, pain free and engulfed in an overall sense of well-being!   Over the past 15 years, many of our Eucalyptus customers have shared similar experiences (hard to believe that's how long we've been making our products as Not The Same LLC (dba Alise Body Care, aka Mudd Hens from our Calistoga Days)
My final Green to share with you today….Our 100% natural body care products are "Green".  We formulate them using "Only Nature's Ingredients" – nothing artificial or synthetic.  Our products are nature inspired, authentic and environmentally friendly. Our products are biodegradable and the packaging they come in is recyclable. Additionally, when we ship your order to you, we only use recycled cardboard and the packing peanuts in the box are corn starch based which makes them 100% biodegradable.  We are proud to be a "Green", Earth-friendly company!
To learn more about:
Enjoy as much Green as you can today AND every day!
With peace and love,
Lisa with the Alise Family